Description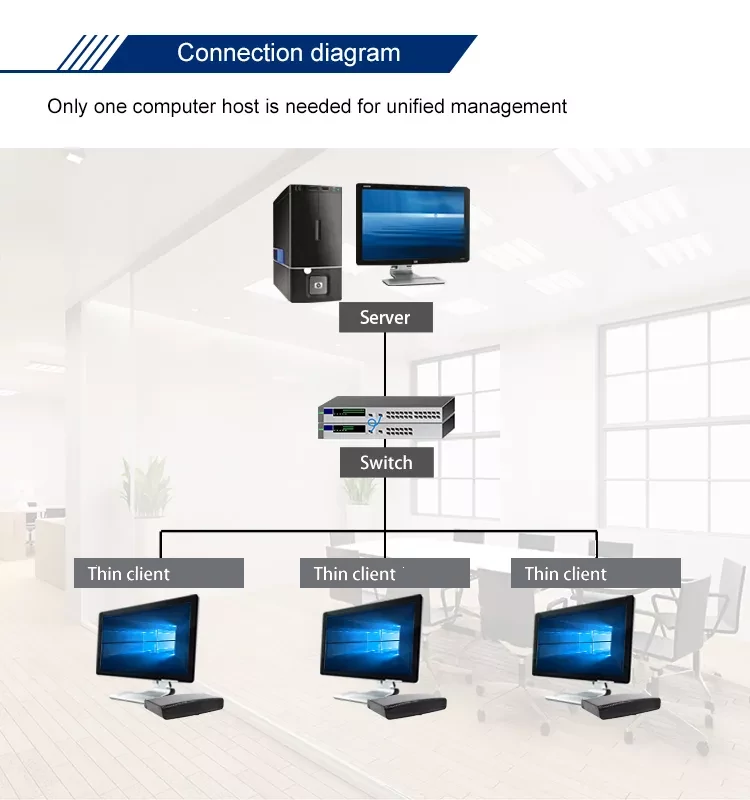 Benefits:
One PC share with many users. Saving!
1.No license.needn't to buy expensive license fee
2.Excellent performance makes it equal to HostPC
3.Lowest maintain cost,Space saving,No heating
4. Data and information security
5.Widely used in School,office,factory,multiple media,educational institutions
    USB Thin Client Computer System
Centralised Computing:

The Quantum Thin Client is an incredible tool which reduces the clutter and complexity. It can connect up to 30 users with a server for multi-user co mputing.

EASY MANAGEMENT: The Thin Client helps in easy management of your systems. It helps in reducing the time and money spent on IT deploying, updating and managing individual employee computers.

REDUCED POWER CONSUMPTION: The thin client simply reduced your power consumption by reducing the number of CPU's needed which ultimately reduced carbon footprint.

A Sleek Device With Efficient Manageability, Engineered to perfection, Made up of durable material, A Smart Device for Seamless Connectivity, Incredibly Powerful and high performance workstation, low power consumption, Durable, Universal Performance, Fan-less System, Quick Boot-up.

No WIFI.

Memory: DDR 512MB NAND Flash soldered on-board.

 

Processor:

Dual Core (A7) 1Ghz.

Storage: 64 MB NAND Flash soldered on-board.

4GB ROM.

Networking:10/100 Mbps Fast Ethernet Port.

Diagnostic: LEDs Power On/Off & RJ45 Connector.

Minimum Server Requirements.

2.0 Ghz Processor.

40 GB Hard Disk Drive.

Microsoft Windows or Linux.

Ethernet Switch or Router.

need 512MB RAM per client on server
1 Year Warranty.