Description

100% Brand New and high-quality SemiSpare TDS meter with temperature
function.

What is TDS?
Total Dissolved Solids (TDS)are the total weight
of all solids (minerals, salts or metals) that are dissolved in a given volume
of water, express in parts per million (ppm).
the lower the TDS in the water, the more
efficiently your body's cells actually get hydrated by the water you drink.
The higher the TDS level in the water, the
greater the probability of harmful contaminants that can pose health risks of
hinder the absorption of water molecules on the cellular level.
The EPA's maximum contaminant level of TDS in
secondary drinking water is 500mg/L(500PPM)

USES:
Used in water purifiers and filters, food
(vegetable, fruits) & drink quality monitoring, pools, spas, aquariums and
hydroponics .
You can check the performance of your water
filter.
Check for hardness(1 grain= 17ppm).
Get assured you always drink purest water!

Function Buttons of TDS Meter
Hold function: Saves measurements for convenient reading and
recording
Auto-function: Turns off meter after 10 minutes of non-use to
conserve batteries
Dual Range: Measures from 0-999 ppm, with a resolution of 1 ppm.
From 1,000 to 9,900 ppm, the resolution is 10 ppm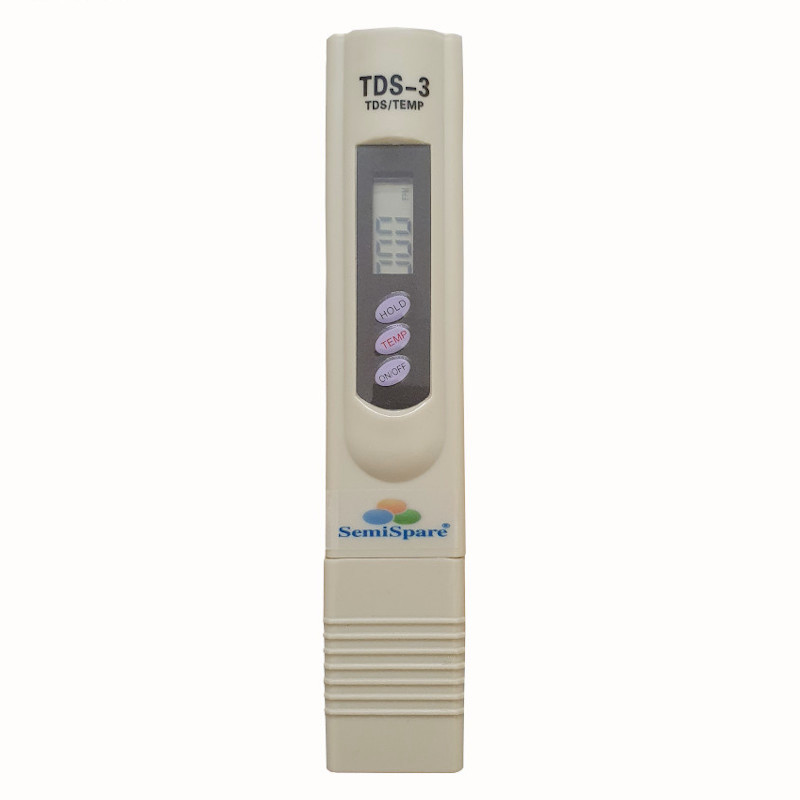 SPECIFICATION
Range: 0-9990 ppm
Accuracy +/- 2%
Battery: 2×LR44 cell battery (INCLUDED)
Data hold. Auto temperature compensation

Auto-function: Turns off meter after 10 minutes of non-use to conserve batteries
Shows the temperature in 0c and 0F
Item size:155mm x 28mm x 15mm
Weight: Approx 70g
Auto shut-off: 10minutes.
Come with a leather case
INSTRUCTIONS FOR USING TDS METER
1. Remove the protective cap.
2. Turn the TDS Meter on.
3. Immerse the meter into the water / Solution up to the maximum
immersion level(2″)
4. Wait until the display stabilizes, The TDS meter automatically
Compensates for temperature variations Once the readout is stabilized (30 to 45
seconds). Presss the hold buttton to save reading.
5. After usage, shake of water from your meter or wipe it with a
tissue.
TDS METER is calibrated at 50ppm, It is recommended that the calibration level
be as close as possible to sample to be tested.

PRECATIONS
 Do not drop the entire TDS meter in water or dip beyond the
maximum immersion level (approximately 2″ – refer to manual for further
information).
This unit can be damaged if water enters the unit.